Theatr Clwyd's Artistic Director Tamara Harvey directs Tennessee Williams' Deep South American Drama, 'Orpheus Descending', a modern retelling of the story of ancient Greek legend Orpheus.
  Set in a dry goods store in a small town in South America, the production examines the effects on its inhabitants when young and handsome stranger Valentine Xavier arrives looking for work. Lady Torrance, trapped in a loveless marriage to a dying husband, and in a state of living death, hires Val, who awakens in her a desire for him, for freedom, and for life anew.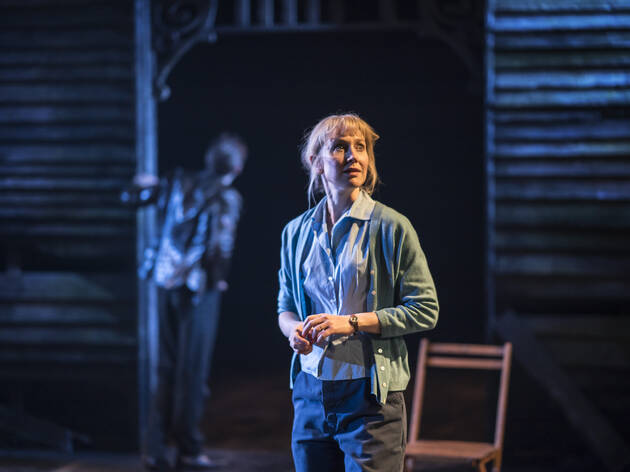 In an early poetic, lyrical monologue, Val tells of a tiny bird, one no bigger than your little finger, weightless, that has no legs and therefore cannot land, forever in the air, that sleeps on the wind. With no legs, and therefore no footing in reality, Lady knows that this mythical bird of paradise exists only in Val's imagination, for 'nothing living has ever been that free'. The image, the bird, represents freedom, one to which humans, to which Lady, aspires, but one that is unattainable, unreal.
  Bought by her husband at the age of 18, after her heart was broken by former lover Dave Cutrere, Lady is trapped in her marriage. Her father was an Italian immigrant and bootlegger, who during the Prohibition acquired an orchard and established a wine garden. After selling liquor to a black man, a mob of locals burned down the orchard and her father, who had returned to the site, along with it. Since then, Lady had been trapped in a living death, this formerly-free bird grounded by tragedy, resulting in her figurative death.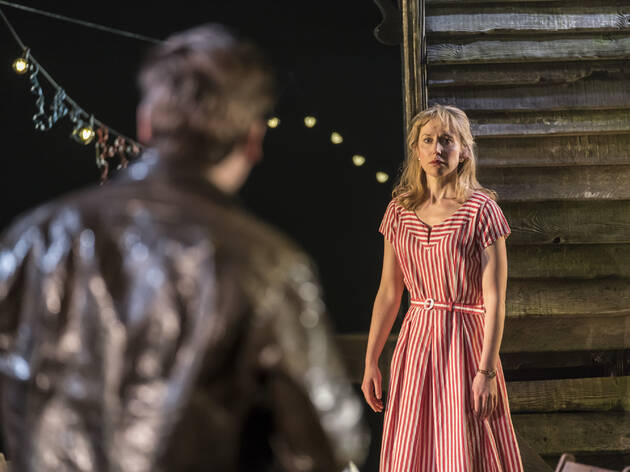 Hattie Morahan gives a perfect performance as Lady. Initially frantic and hysterical, the result of sleep-deprivation, she phones a pharmacy in the early hours of the morning to request sleeping pills. Before now, Lady was free and full of passion; now, married to a man she dislikes, she is passionless. Val awakens something in her, however, and she becomes completely captivated, both by him, and by the image of freedom he appears to represent. Offering Val accommodation, she explains that she needs him, that she would feel safer knowing he was in the store at night, but one feels she has a further motive. She is transfixed by Val, by his ability to live, and to create for himself moments of release that she no longer thought possible for herself. Prepared to follow him, Val restores to Lady the part of her that died when her father's orchard, and her father with it, was burned, and once more she takes flight.
  The South American town in which the production is set is rife with racism and repression, an organ grinder, to which its inhabitants are as performing monkeys, playing to the rules. The arrival of Val is therefore likened to that of a fox in a chicken coop – one that will ultimately have tragic consequences. He is different, or at least is viewed as such by others, particularly by the jealous men of the town, who see his relaxed, unconventional nature as suggestive, and therefore undesirable.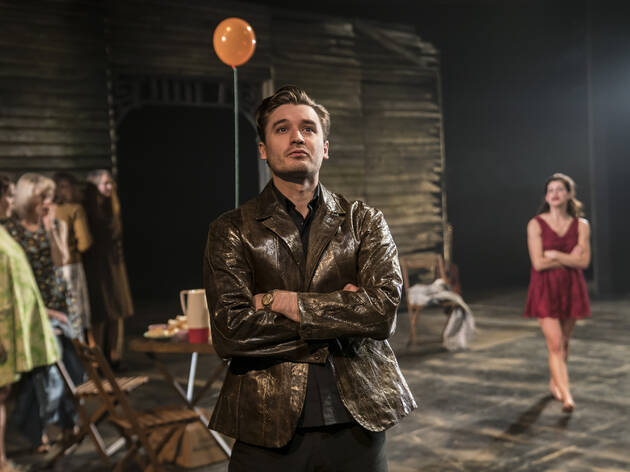 There is something very seductive about Seth Numrich's Valentine Xavier. A free spirited, unconventional, snakeskin jacket-wearing stranger, possessed with an animal eroticism and a mysterious sense of otherness, Val is hired by Lady to work in her dry goods store. Having previously made a living performing with his guitar, his life companion, it is clear that Val finds a release in music, one that allows him a form of transcendence, a rapture, one that allows him to step foot, if for a moment, on the heavenly grass, to become like that bird that does not touch the ground, to sleep on the wind. It is his music, and then Lady, that silences his feelings of loneliness as, despite his retreats into imagination, Val actually has a very firm grasp of reality, and delivers some of the most iconic, and somewhat chilling lines of the play: that " we are all sentenced to solitary confinement inside our own skins", a testament to his prior loneliness and inability to permanently escape.
  Background noise is often provided in the form of the relentless barking of dogs in pursuit, and the screams of those being chased, and torn to pieces when caught. There is something very wild, very primitive, about this play, and the production highlights the savagery of a corrupt mankind in a fallen world. A savagery applied to those who are different, which does not bode well when Val first enters to the wild barking of Uncle Pleasant.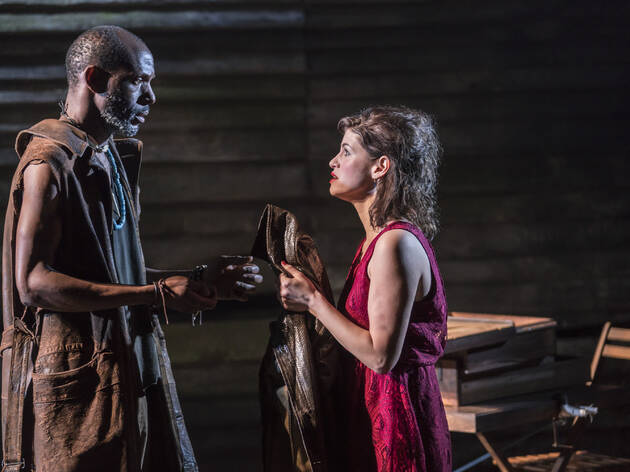 Black man and part Choctaw Indian, Uncle Pleasant is referred to as 'Conjure Man' by the locals, who move away from him as he advances. All except Carol, who repeatedly encourages Uncle, on one occasion pays him, to do his Choctaw cry, a wild-sounding, animal noise, exhibiting a 'wild sort of sweetness' that Carol once knew, and longs for again. Valentine Hanson's Uncle Pleasant erupts into moments of melodramatic otherness as he cries in the manner of his Indian ancestors. Thought a frequent presence, his is largely a silent one, a warning that though he may have been free once, now he is subject to the hypocritical laws of an imperfect mankind in which he sits as the minority. Hanson also takes on a narrative role, delivering Williams' stage directions as though conjuring the action to follow.
  Jemima Rooper is impressive as exhibitionist Carol Curere. A former civil rights campaigner, she was arrested for lewd vagrancy for wearing nothing but a potato sack during a protest. Now living up to the title, she seeks attention, and struts around with striking make-up, short dresses and leopard print coat. However, her bare and muddy feet suggests that all is not as it seems, and Rooper cleverly creates a character that evokes both admiration and pity.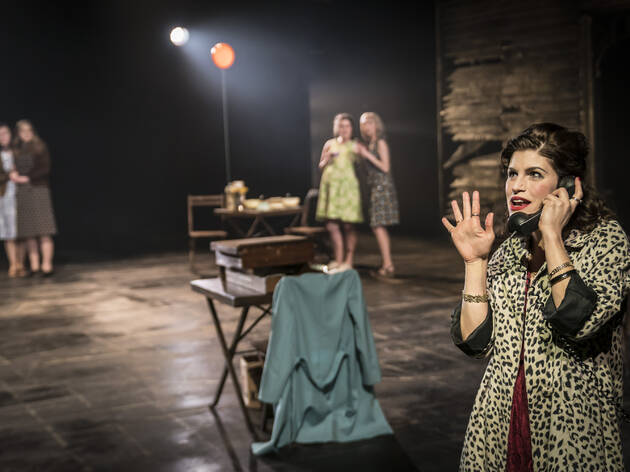 Carol Royle is moral crusader and visionary painter Vee, who claims to have been rendered blind after seeing a vision of Jesus, her religious allegory and spiritual paintings striving to make sense of life and existence, distinguishing between the light and the shadow. Catrin Aaron's gossiping Beulah Binnings does a great job of setting the scene at the start of the production, revealing to us and a wide-eyed, shocked Dolly (Laura Jane Matthewson) details of Lady's past.
  A great playwright, Tennessee Williams captures the perfect balance between tender poetic lyricism and violent beauty in his language and, with Tamara Harvey's skilful direction, the production soars effortlessly atop his words, fully realising the truth, the honesty and the passion within. Whilst death haunts the production, there exists the promise of life, and the possibility of resurrection.
  Shadowy and poetic, this is a faultless adaptation of Williams' play, a soaring, searing exhibition of loneliness, sexual desire, repression, freedom, and resurrection.