'Hell hath no fury like a woman scorn'd'.
  What happens, then, when generations of women are scorned? When the anger of centuries of women joins forces? When together, they stand united and raise their voices? Make themselves heard? Stand up and are counted?
  What could they achieve?
  Emilia Bassano was an English poet, born in Bishopsgate in 1569, the daughter of a royal musician. Widely thought to be the 'Dark Lady' of William Shakespeare's sonnets, it was Emilia herself who inspired the man that would go on to inspire generations.
  400 years later, Emilia is considered to be the first professional female poet, and during her lifetime, she certainly asserted herself as such.
  Whilst in her own lifetime, her poems were overlooked, her voice ignored, this Shakespeare's Globe production of striking new play 'Emilia', written by Morgan Lloyd Malcolm and directed by Nicola Charles, resurrects the spirit of this extraordinary woman, shining a light on her story, giving her the voice she was never afforded in her own time.
  The story follows Emilia through her life, from her youth and the tragic death of her parents, to her time as mistress to Lord Henry Carey – patron of the theatre and cousin to Elizabeth I – through her childbirth, to her relationship with William Shakespeare, to the publishing of her work.
  Though at times, her voice was hushed, it never went away, was never completely silenced, and each time she was knocked back, she pulled through, ever more determined to fight for equality, and for the rights of women. We lament her struggles, her trials and tribulations, her setbacks and heartache, but rejoice at her strengths, her joys and her victories, such as are shared by the whole of womankind.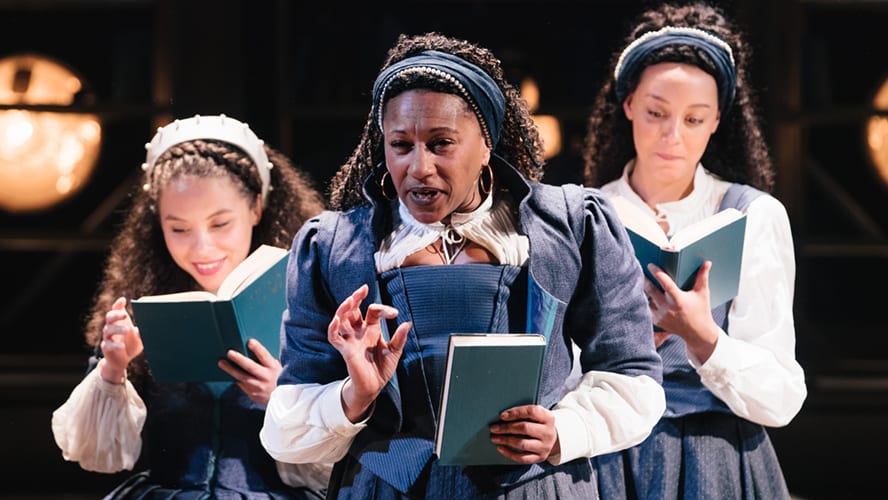 'Emilia' is one of the most blistering plays to hit theatres in years – it explodes onto the stage with defiant intensity and violent passion, with rage, with anger, with unyielding strength, and with a refusal to go unheard. 'Emilia' will make you listen.
  This is not only her story, however. This is the story of all women, everywhere. 'Emilia' is a call to arms, raising women up as one body, one voice, and one power. It calls for women to stand together, to unite, and to speak out. Finally, we will be heard. There is no better starting point, no better platform for this uprising to begin, than with this production. A stepping stone to equality.
  The production is laden with such emotional depth, the all-female cast delivering performances of a lifetime. Told with such immeasurable feeling, such rawness and such weight, these three-dimensional characters are fuelled by a fierce and violent passion, by an unshakeable determination to make their voices heard. It is so easy to see just how much this story, these words, this fight, means to each and every performer, who use everything at their disposal to convey the necessary urgency of this play, which couldn't have come at better time.   
  Three actresses play the protofeminist Emilia, each at different stages of her life. All three, however, are present on stage throughout, and often interact with each other, holding and raising each other up, catching each other when they fall, a source of comfort and reassurance. Although each actress puts her own distinct spin on the role, they all represent one voice – that of, not just this one woman, but womankind, for whom Emilia becomes a spokesperson.
  Saffron Coomber gives an exceptionally high-powered performance as the young Emilia, as she brims over with a burning intensity and a dynamic passion . After the death of her father at the play's start, Emilia recites a poem she has written in his memory, despite her mother telling her no. Scouted by the Countess of Kent, Emilia is brought up being trained for a life at Court, taught the appropriate airs and graces, in the hope of securing a good marriage. This leads into a hilarious scene where the women – Emilia, Kent, and others – are busting out their best moves, Vogue-style, demonstrating their attributes in order to attract the men that soon arrive and do likewise, dropping to the floor to in press-up position and lifting chairs to highlight their physicality. Emilia becomes the mistress of Lord Henry Carey, under the belief that his connections could take her places she wanted to go. When she becomes pregnant with his child, however, Carey sought to marry her off to Alphonso Lanier.
  Despite her youth, and the many forces that set out to quieten her, training her to behave in accordance with societal expectations, constraining her freedom, Emilia had her own voice, and with it, a desire to be heard.
  Adelle Leonce is our second Emilia, ruled by that same desire to speak out and to be heard. Her performance is weighted with a striking spirit, which builds into a powerful paroxysm as she rails against the injustice of inequality. This Emilia seems a little more hardened by a world that is forever trying to silence her, and there comes a point where these forces become too much for her. Salvation comes in an unsurprising form, however – women. Emilia is rescued by a group of women who, though from poorer circumstances than herself, selling everything from their services to themselves in a bid to survive, become fast friends with her, as their united sufferings transcend their wealth and social standing.
  In return, Emilia offers to teach them, for whatever they can afford to pay. They inspire her to continue, and she inspires them – to the point where they too pick up the pen, and begin to write their own poetry, joining their voices to hers.
  Earlier, Emilia has a stand-off with Shakespeare, and a battle of wits, that wouldn't seem out of place in one of the Bard's own comedies, ensues. By her outburst, however, one senses she is raging, not at him, but at all men. When Shakespeare patronises her by explaining something she already knows, she rages over why women are prevented from doing what men do, when they can do it just as well. Why women are prevented, censored and forbidden, when they are just as capable, as just as worthy.
  Emilia goes to see a production of Shakespeare's 'Othello' at the Globe, and is outraged to discover that Shakespeare has given her name to one of his characters, albeit an outspoken one, and uses her words. She feels she has been violated, stripped of the identity which fuels her existence. She takes to the stage, she takes over, and begins shouting her own words, raising her voice to the rafters, filling the stage and space. This play ensures that women are placed at the very centre of the stage, and it is thanks to works such as this that they continue to be so.
  Clare Perkins begins and ends the play as our maturer Emilia. She enters through the audience, and delivers a description of herself as written by astrologer Simon forman, in which he refers to Emilia as a 'harlot' and a 'whore'. These are the words that have been used to describe her for centuries. Not anymore. This play rewrites the history of this woman who, for so long, has been remembered only through the lives of the men around her. Perkins immediately hits us with a fierce sense of determination, fight and passion, as she resolves to guide us through the footsteps of her life, opening our eyes to her truth, watching over her younger selves. More determined than ever, Emilia publishes her poetry in pamphlets with the help of the women she has taught, and even writes a novel in which her true intent is masked in a religious text. Her heartbreak at further tragedy, when her friend is convicted of sorcery and is punished according to the law of the time, Emilia's reaction is so very affecting, and we are so moved by the fate of women who try to speak out, and the disgusting way in which they were silenced.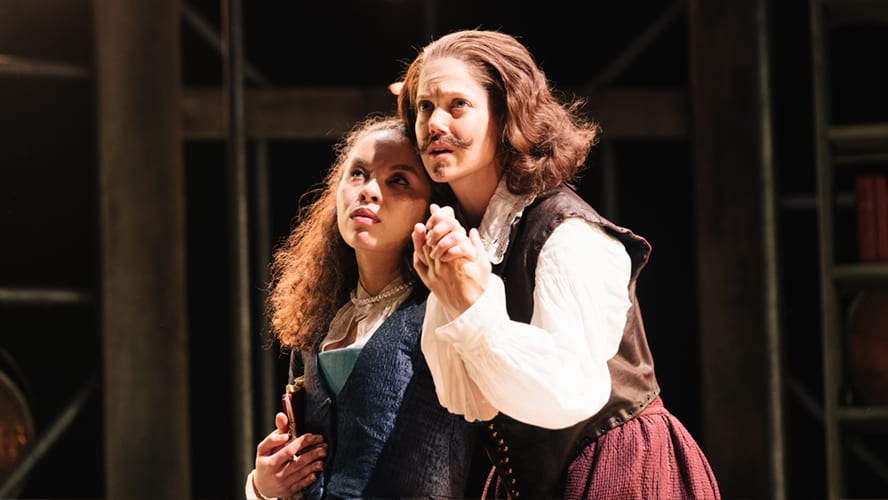 Perkins' performance is so commanding, so vigorous, so forceful, her words delivered with such fervour, and such dedication to the cause of Emilia, and of women everywhere. She speaks with such a powerful need to be heard, to be understood, and to encourage others to join her.
  Charity Wakefield's William Shakespeare is a revelation, a very worthy portrayal of this great man, dashing, debonair, sophisticated and smooth-talking. Hilariously aware of his own brilliance, each time he mentions a play of his, the actor looks out at the audience exclaiming, 'It's very good'. With a mastery over language and very smooth delivery, Wakefield's Shakespeare explains that he writes, not to be understood, but to understand. His devotion to Emilia establishes her as, not just muse, but lover. With similar passions, personal strengths and flaws, the two seem, for the first part at least, a marriage of true minds, two equals. However, Shakespeare takes her language and uses it as his own, fooling himself that those words are not Emilia's to own, and that, as a woman, she lacks the ability to pen them in such a way as he does, writing being where his great skill lies. Unfortunately he, like so many others, underestimates Emilia, and this is something he comes to realise, and perhaps what motivated him to use her name, her outspoken and driven temperament, in one of his characters.
  It is through Shakespeare that most know, or at least have heard of, Emilia Bassano. Though it is true that he can be seen as a pivotal figure, not least in spurning her to continue writing, in fuelling her fire as she did his, this is very much her own story, which is finally being told, Emilia finally being seen and heard as her own person.  
  The cast in its entirety are are so deserving of the highest praise – from Jackie Clune's patronising Lord Thomas, whose action of patting his wife on her head is testament to the way he controls her, keeping her on a tight lead until all she can do is agree with him, to her down-to earth Eve, whose poetry, though rough around the edges at first, conveys a deep-rooted sense of anger at the men that consistently take from her. Her second poem, though considered dangerous by men, is beautifully poetic, and speaks volumes for the generations of women struggling to be heard.
  Nadia Albina's refined Lady Katherine is controlled by her husband as she lives in a life of subjection, until one day, her pride in Emilia and far she has come moves her, compels her, to act, no longer ruled by her fears.
  Carolyn Pickles' impressive Lord Henry Carey petitions Emilia to become his mistress, in return for his support with regards to her writing. Emilia seems content for the most part, until she becomes pregnant with his child, and he marries her off to Amanda Wilkin's hilarious Alphonso Lanier, whose thoughts appear to lie elsewhere and who, like Emilia, doesn't quite fit in.
  Anna Andresen's unconventional, forward-thinking Lady Mary Sidney provides a wonderful leeway into her role as the straight-talking Hester. Jenny Mary is uproarious, first as the Countess of Kent, and then as Mary, and Sarah Seggari's Lady Cordelia, for all her comic vulgarities, and her Flora, are delightful.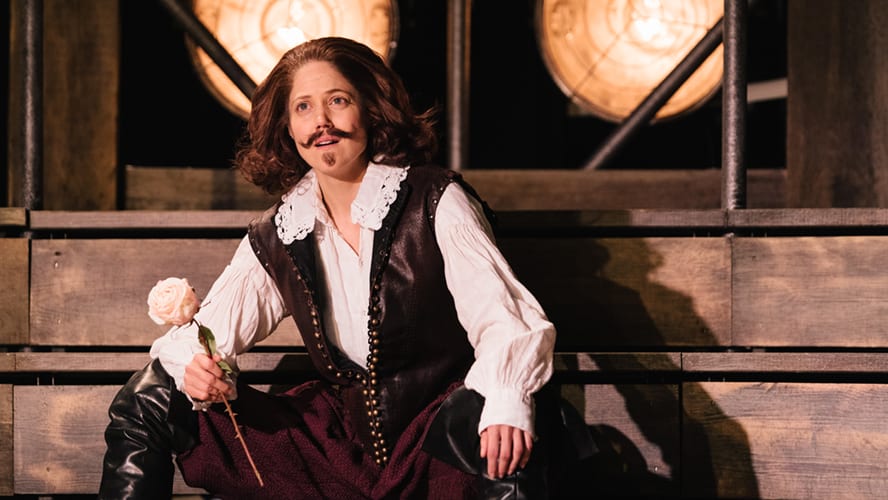 Having first been performed at Shakespeare's Globe in 2018, the well-deserved and much-needed West End transfer of 'Emilia' at the Vaudeville Theatre sees the compact creation of a structure resembling the iconic Globe Theatre brought to life on an indoor stage. A bold statement, as now a stage that has borne only men for so long, a stage upon which only men played, only men wrote for, now forms the framework for a woman's story. A story told by women, for women. A woman who has as much right to be there, to be heard, as do they. A clever subversion of tradition.
  On a larger scale, the Globe Theatre does, through its work, stand to represent 'the great globe itself'. This production does reach out across the globe, identifying, understanding and representing women everywhere, uniting them as one. All women suffer, all women experience pain, all are subject to the ignorance and abuse of others, and this play reminds us that there is no competition. That together, we should work to combat a mutual enemy.
  Notably, the Globe Theatre is a wooden structure, one that has been replicated to a believable extent here. That location, as with Joanna Scotcher's scenic design in this production, is not set in stone. It is not lasting. It can be burnt. The fire that burns within each of us can be used to burn the weak and temporary structures that hold the patriarchy upright.
  Zoe Spurr's lighting design emphasises the shadows cast by the patriarchy, which frequently throws Emilia into the darkness, as she attempts to lead herself and other women into the light. During her lengthier monologues, the stage is flooded with the light that radiates from her as she comes alive fury and rage, but with a hope that she can make a difference. Luisa Gerstein's compositions bring the voices of many women to the fore, as an ensemble group harmonise to the melodic beat of change and progress, whilst Emma Laxton's intermittent warlike sound reflects the battle between the sexes that is raging, and that continues to rage, 400 years on.
  'Emilia' gives a voice to those who, for so long, have had none. It fills years of silence with voices, and makes these voices heard, paving the way for other women to speak, and to continue speaking. Emilia Bassano reaches out to us across the centuries. Not, it is time for us to speak back. To carry her words forwards, to inspire and unite the next generation of women, without whom, there would be no men.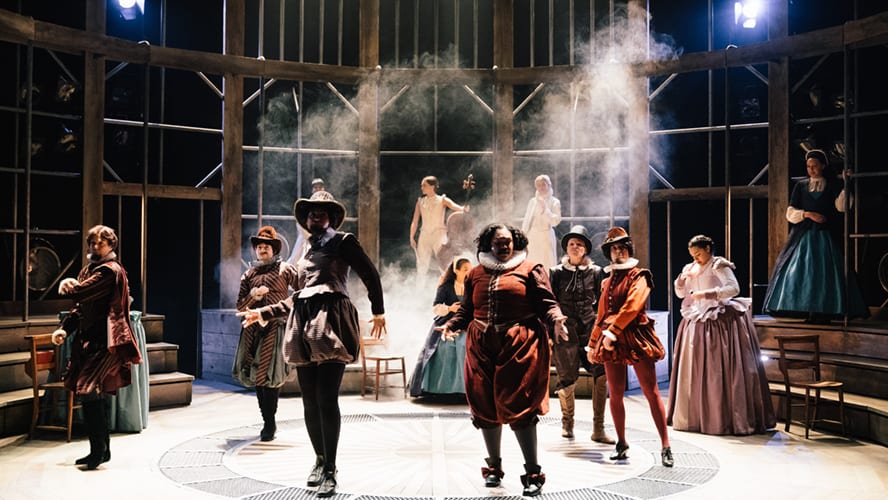 American academic Barbara Josephine Lewalski does, in an article entitled 'Writing Women and Reading the Renaissance', refer to Emilia as the 'defender of womankind'. This play ensures she will be acknowledged as such, as remembered as such. This play acts as a defence, empowering female audiences to fight back. To speak out. To stand up. To be counted.
  The production also addresses the issues surrounding the objectifying of women, and the labelling of them as 'exotic curiosities', as something that exists purely for the pleasure, excitement and experiments of men, as something to be tried, tested, tasted, and then discarded.
  Women are stripped of their identities, violated in more ways than one, are silenced and subjugated. From birth, men are encouraged, are up-built, are promoted, taking credit from the women who are kept in the shadows.
  Whilst Emilia harboured an anger that her name was taken from her and applied to the character created by another, this play is named after her. Named for her. Her name will be spoken of, remembered, immortalised, through this play. It is no longer a name, it is a battle cry, a call to arms. Her name will now mean something more, representing all that she stood for, all that womankind should stand for. Her name is not just who she is, but what she is. What an extraordinary legacy for an extraordinary woman. This is her story. It has been told. And it has been heard. We are listening.
  Though silence speaks volumes, 'Emilia' fills that silence with something even more powerful. With the screams and shouts of generations of women, fighting to be heard.
  This play, this reality, this 'perfect morsel of truth', is for all those women who have gone before. All those women we are with now. And all those women who will come after.
We are Emilia.
We are taking back what has been taken.
Our tongues will not be hushed, and our pens will not be stayed.
We will not be stifled, silenced, ignored or abused.
Our flames will not be extinguished.
I am Emilia.
You are Emilia.
We are Emilia.
And our time is now.