Welsh National Opera present 'Roberto Devereux', a magnificent yet ultimately heart-wrenching production, set to Donizetti's powerful score.
  Set in Elizabethan England in 1601, the production follows accused man Roberto Devereux, held to account for treason, and the betrayal of his Queen, Elizabeth. Elizabeth, in love with Roberto, gave to him a ring as a token of her love. However, when Roberto gives this ring to another, he is dragged to the Tower of London, leaving Elizabeth heartbroken.
  At the start of the production, and indeed, at other points in its duration, there stands on the stage a glass cage, around which a throng of ladies-in-waiting stand, fascinated with its contents. A clever use of technology gives the illusion that a large tarantula is contained within. When Elizabeth drops into the cage a handful of insects, the spider begins to move, walking along the walls of its cage to capture its prey. Within the cage are also two butterflies, delicately fluttering their wings.
  During the second half of the production, we are faced with a huge mechanical spider, its legs operated by Elizabeth's ladies in waiting, whilst Elizabeth herself climbs atop it and stands at the centre, becoming the body, and the voice, of this predatory arachnid.
  These characters are caught in a web of lies, treason, treachery and betrayal, a web which places Elizabeth at the centre, whilst terrible accusations are woven around her.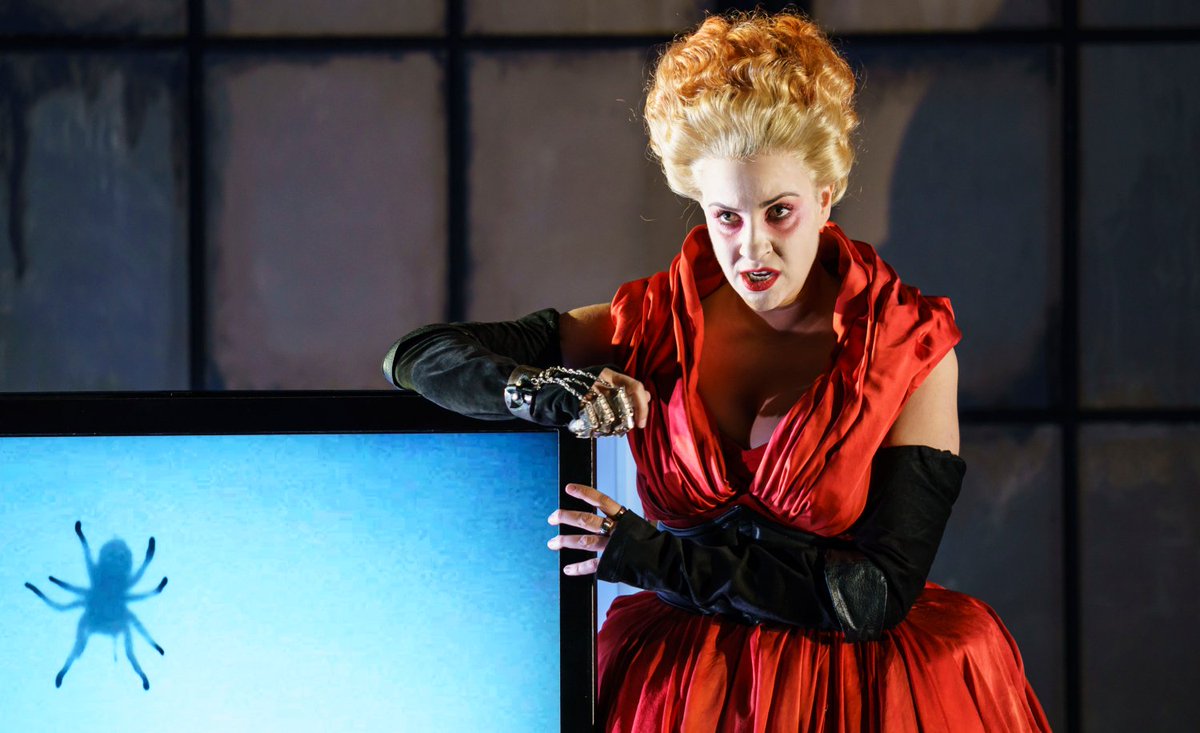 We find some of the males in the production, the Peers and Members of Parliament, but most notably, Roberto himself, as flies, caught in her web, trapped. When Roberto is imprisoned in the Tower of London, his hands and feet are bound by many strands of red rope, the fibres of Elizabeth's web. Is it, however, a web that he himself had some hand in making? Or is he simply an innocent party, victim to the rage of a tempestuous Queen? In case, Roberto is like a critter, dropped into a cage to feed, to become prey to, Elizabeth, atop her spidery throne.
  These characters, like the creatures within the small glass case, are themselves trapped, in a larger cage, the gilded glass cage of Elizabeth's court. Thus, we see them take on the roles nature assigned to these mini-beasts – insect and tarantula, prey and predator, subject and ruler. However, unlike the cage of these critters,the cage of Elizabeth and her subjects is tainted, the windows, moss-stained and frosty, hinting at some impurity and contamination.
  The use of shadow is cleverly manipulated within the production. Whilst giving us a glimpse of the actions of certain characters in private, such as when Elizabeth paces with her head in her hands, and also hinting at the hustle and bustle of her court, the effect is also quite a haunting one. When the curtain rises for the second half, many of the ensemble characters stand behind the windows, banging on the glass, their bodies merging with their shadows, so much so that it becomes difficult to differentiate between them. It is as though these characters are trying to escape from the cage, from the web, that ensnares them all.
  Queen Elizabeth I famously said: "I know I have the body of a weak and feeble woman, but I have the heart and stomach of a King, and of a King of England too". Joyce El-Khoury's Elizabeth has heart and stomach in abundance, her performance fierce, fiery, powerful and passionate. Every inch a Queen, El-Khoury "shines with majesty", conducting herself with a striking regality, capturing the formidable portrait of one of the most famous and most powerful women in British history. Authoritative, dominating and commanding, she shows herself to be quick-tempered, easily prone to rage. However, particularly in the first half of the production, we spy a tenderness in her, in her interactions with Roberto. In the second half of the production, El-Khoury masterfully depicts a character that has lost some of her fight. Her lack of wig providing a physical transformation that mirrors the deterioration of her mental and emotional state. Amongst fleeting moments of rage, and regret, the overriding sense we get from the character is one of defeat. A broken woman, she weeps, trembles, and uses the legs of her mechanical spider to support herself. So utterly affecting, El-Khoury provides us with the downfall of a character, the likes of which can be found in the heartbreak of Shakespearean tragedy.
  When we first meet Justine Gringyté's Sara, we learn that her marriage was an arranged one, performed at the bidding of Elizabeth, who thought her friend to be lonely. Trapped in the web of a loveless marriage, Sara can be likened to the butterflies we see within the glass case – delicate, feminine and genteel. However, like Elizabeth, she has a great deal of fight in her, an underlying power, and is prepared to risk her life in order to save that of the man she loves, Roberto, and Gringyté's heartfelt, moving performance is truly a thing of beauty. 
  Barry Banks gives a wholly convincing performance as the condemned man, titular character Roberto Devereux. When we are first introduced to the character we, like Elizabeth, have our suspicions, when he denies, when questioned, loving another. When we see the extent of Elizabeth's rage, however, we understand why he was reluctant to renounce Sara. He was doing so, not to save himself, but to save her, and to protect her reputation – he would rather die. For Elizabeth, this is the ultimate betrayal, and Roberto is dragged to the Tower of London. Whilst prior to this, we often caught him slumping up against walls and dropping to the floor, there comes a point of acceptance during his imprisonment, if not earlier, and he struggles to stand tall against the weight of shackles, a proud man to the last, his solo arias in this scene richly compelling.
  Roland Wood is wonderful as the Duke of Nottingham, husband to Sara and close friend to Roberto, and therefore another victim of their betrayal. His deep, weighty vocals attribute to the character a masculine authority. In the first act, Nottingham is the only man that openly defends Roberto, going so far as to plead to the Queen to spare his life, his loyalty and faithfulness positively endearing. However, the cruel twist of the knife when he learns of this double betrayal, by his friend and his wife, is all the more devastating, and the moment of his realisation deeply impacting.
  Forming part of the set are several tall poles, that stand centre stage towards the back of the set. Whilst for the most part, they remain inconspicuous, their full purpose becomes clear at the end of the production, when they are brought forwards, and lit up with the flash and bang of a firing canon. They are not poles, they are spikes, Spikes on which rest the decapitated heads of past traitors, and one headless body. Whilst some are no more than skulls, others are fresh, with congealed blood hanging from the head. This grisly final image the audience are left with strikes terror, but ironically, we remember that these spikes have been on stage throughout the production, lurking in the shadows. This image of death is one that has been painted, woven, throughout.
  This depiction of an Elizabethan capital punishment, alongside other such references, remind us of the era in which this production is set. However, there is a modernity that is cleverly woven around this historic context, which not only makes for a vividly resonant production, but also highlights the increasing accessibility of opera as an art form.
  A royally majestic production, 'Roberto Devereux' is a token of love to opera.