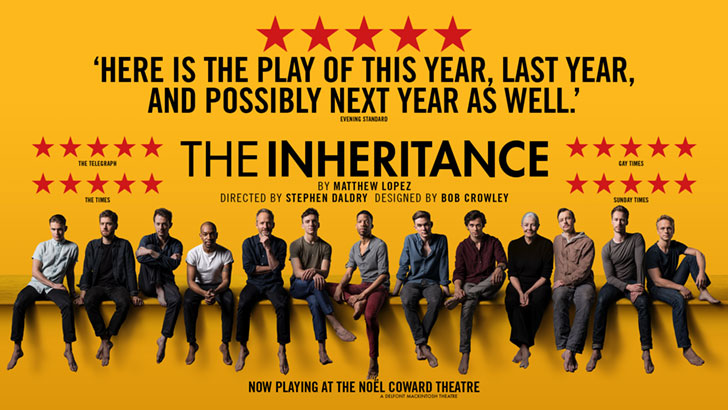 "You have to wonder why there isn't a word in the English language for the fireworks that go off in your brain when you finally kiss someone you've wanted for years. Or for the intimacy and tenderness you feel as you hold the hand of a suffering friend".
'A generation after the peak of the AIDS crisis, what is it like to be a young gay man in New York? How many words are there now for pain and for love? Matthew Lopez's major new two-part play explores profound themes through the turbulent and often hilarious experiences of a group of young, ambitious New Yorkers.  What is the legacy left to them by previous generations? What do they owe the future and each other?

Spanning generations and many interlinking lives, 'The Inheritance' brilliantly transposes EM Forster's novel 'Howards End' to 21st century New York'.
  Following a sold-out run at the Young Vic Theatre, Matthew Lopez's major new two-part play 'The Inheritance' will transfer to the West End's Noel Coward Theatre for a strictly limited season.
  The landmark production, which received huge acclaim during its world-premiere at the Young Vic, has been recognised by critics as a modern classic, and one of the most important plays for many years.
  The production is directed by multi Olivier award winner Stephen Daldry and produced by Sonia Friedman, Tom Kirdahy and Hunter Arnold, with set and costumes by Bob Crowley, lighting by Jon Clark, sound by Paul Arditti & Christopher Reid, music by Paul Englishby, UK Casting by Julia Horan CDG and US Casting by Jordan Thaler CSA & Heidi Griffiths CSA.
  David Lan, who programmed the original production as Artistic Director of the Young Vic, joins as Executive Producer for the West End production.
  The majority of the original Young Vic cast will transfer with the production, including: Hugo Bolton, Robert Boulter, Andrew Burnap, Hubert Burton, John Benjamin, Paul Hilton, Samuel H. Levine, Syrus Lowe, Michael Marcus, Vanessa Redgrave, Kyle Soller and Michael Walters.
  The play is inspired by the novel 'Howards End' by E.M. Forster, and examines love between gay men in modern-day New York a generation after the AIDS epidemic, and questions what we owe to those who have gone before us, who lived, and loved, before us – and what we will leave behind for those who come after us.
  Hailed as "an incredible feat" (The Stage), "an extraordinary epic event" (Sunday Times), "vast in its emotional scope" (Gay Times), "Matthew Lopez' rhapsodic deep dive asks how to love, how to live and how to do those well. It's captivating" (The Sunday Times).
  The Guardian praises 'The Inheritance' as "a play that pierces your emotional defences, raises any number of political issues and enfolds you in its narrative". According to the Daily Telegraph, "'The Inheritance' instantly looks like a modern classic, perhaps the most important American play of the century".
  'Stephen Daldry's production is masterly, spiced with mischief and teeming with incident. It announces an intention not simply to punch home a series of significant moments but to trace the links between them: to unravel a history, and ask what one generation has passed on to the next – and whether the legacy could have been different' – The Observer.
  'The Inheritance' will preview at the Noël Coward Theatre from 21st September 2018, with an official opening performance on Saturday 13th October, and will run until 19th January 2019.